FAS Distributions
The FAS Mail Center has several types of distributions which will help you in picking the recipients: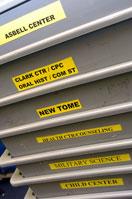 All Campus (includes Facilities and Dining Services)
Faculty
Administration
Faculty and Administration
Regular Distribution (does not include Facilities and Dining Services)
Departmental/Offices (one per each department/office)

Counts for the above distributions change each semester. The Print Center has the counts, if you get your distribution printed there. Be sure to let them know the date you want the distribution to be put in the mail boxes. The distributions must be in the FAS Mail Center the preceding day if you want them to be distributed in the morning delivery.

Distributions with names on them must have a label stating the recipient's name and department. Ask for the labels in alphabetical order by department.
FAS Mail Center Hours
Monday - Friday
9 am - 4:30 pm
Phone: 717-245-1238
Student Mailroom Hours:
At the convience of Students

Package Pickup Hours
Monday - Friday
10 am - 6 pm
Saturday
10 am - 2 pm

Zair Ulsh: 717-245-1298
Phone: 717-245-1973
All Offices CLOSED on Sunday
Hours may vary during exams, breaks, and holidays