Twelve Centers. A Global Network.
For more than fifty years, Dickinson has operated its own global study and research centers. These centers immerse students in the study of foreign language. They foster a deeper understanding of the political, social, cultural, and economic histories of the countries and regions in which they are located. And they form a worldwide network of living laboratories from which students can trace the causes and consequences of global forces, examine differing policy responses to global change, and assess and learn from successes and failures.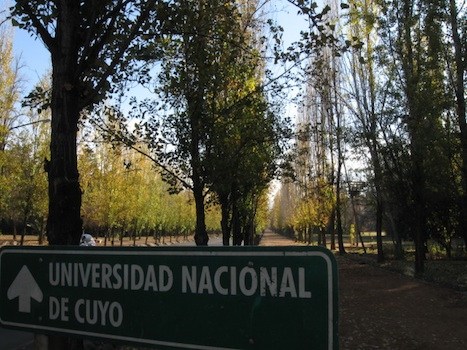 Mendoza is the College's newest global center, deepening Dickinson's engagement with Latin America and Latin American issues. Is hosting its inaugural group of Dickinson students in spring 2013. Likewise, exchange students from Universidad Nacional de Cuyo, our new partner institution, will begin study on campus in Carlisle in fall 2013.
To learn more about the Dickinson-in-South America program and to apply, click here.
RECENT TOPICS/PROJECTS:
In the fall 2012, Neil Leary (Sustainability) met with faculty at UNCuyo's renowned School of Agriculture to discuss possible collaboration with the Dickinson College Farm. The School of Agriculture at UNCuyo offers programs specializing in the science and business of wine and olive oil production.