Student Employment in Sustainability-Related Positions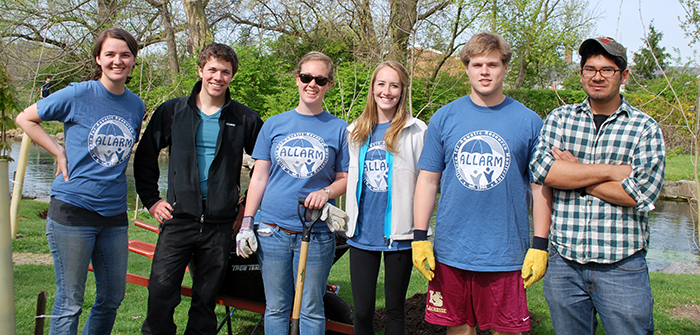 CSE employs 9-11 Dickinson students part-time during the school year and a 4 full-time students in the summer. Their overarching goals are to provide students the opportunity to create and/or improve sustainability programs and/or operations at Dickinson College in an effort to fulfill the objectives of our climate action plan and educate students on how to live more sustainably. Intern projects include, but are not limited to:
Supervising the Eco-Rep Program (residential peer sustainability educators)
Promoting sustainability though the use of social media, print, & tours

Inventorying greenhouse gas emissions for the campus

Working to promote waste minimization & diversion
Managing The Handlebar, our campus bicycle co-op
Creating alternative fuel in our Biodiesel Shop

Coordinating the campus-wide Energy Challenge

Serving as a liaison to community sustainability programming
Research Assistants: Calculating Nitrogen Footprints

Number of Paid Positions Available: Spring 2015: 11 and Summer 2015: 4
Hours: Fall/Spring- 10 hrs/week & Summer- 40 hrs/week (housing provided)

Dates to Apply: November 10, 2014 for Spring 2015

Contact Information: Lindsey Lyons, sustainability@dickinson.edu
, 717.245.1117
Application: Download Spring 2015 CSE Application Here
Position Descriptions: Download the Spring 2015 Position Descriptions Here

---
ALLARM employs 10-14 students part-time during the school year and a 3-5 full-time students in the summer. ALLARM students are directly engaged in diverse community outreach programs from training communities in Pennsylvania and New York how to monitor streams for potential impacts from fracking to implementing a stormwater education campaign in collaboration with the Borough of Carlisle. Primary roles at ALLARM, include:
Technical Assistance: Developing and implementing community resources for water monitoring and watershed protection.
Environmental Education: Creating and carrying out K-12 and afterschool environmental educational programs (with a focus on aquatic resources).
LeTort Stormwater Education Campaign: Design creative approaches to educate Carlisle residents about stormwater and engage them in pollution reduction activities from using rain barrels to adopting storm drains.
Public Relations and Outreach: Write press releases, design outreach materials, and use social media to market ALLARM's work.
Stream Restoration: Manage a stream restoration site in collaboration with campus organizations and the College Farm.
Community Aquatic Resource Laboratory: Conduct analysis on stream samples from volunteers from New York, Pennsylvania, and West Virginia to verify that ALLARM's volunteer monitors are using their equipment correctly and collecting credible data. Research and test new aquatic analysis techniques.
Number of Paid Positions Available: Fall/Spring: 10-14 & Summer: 3-5

Hours: Fall/Spring- 10 hrs/week & Summer- 40 hrs/week (housing provided)

Dates to Apply: March 2015 for 2015-16
Contact Information: Julie Vastine, vastine@dickinson.edu, 717.245.1135

Application: 2014-15 hiring completed; Check back in March 2015

---
The College Farm hires student farmers with curious minds and who are ready to engage in fun and physical work. Interns can expect to perform the conventional tasks of water, weeding, transplanting, harvesting and washing crops, and selling produce at our local farmers market. Student farmers may also participate in the unfamiliar, such as:



Animal care for sheep, cows & chickens

Installing solar energy systems


Working on and with farm equipment
Harvesting produce and maintaining fields
Preparing value added products
Helping with the local farmers market

Working directly with farm managers, many students take advantage of creating hands-on academic internships and independent research projects at the College Farm.

Number of Paid Positions Available: Fall/Spring: 6-12 & Summer: 5
Hours: Fall/Spring: 6-10 hrs/week & Summer: 40 hrs/week (housing provided)

Dates to Apply: Late Fall (for Spring) & late Spring (for Fall)

Contact Information: Jenn Halpin, halpinj@dickinson.edu, 717.245.1969

Application: Fall 2014 Hiring Completed

---


Dining Services hires one intern per semester to both promote and progress sustainable food education and procurement on campus, and also to inventory their growing list of sustainable products and food they procure annually. Interns can expect to fulfill the following roles and responsibilities:



Maintain and expand upon the Sustainable Food Inventory

Educating the student-body about the benefits of sustainable food
Research Dickinson's food supply chain
Evaluate sustainability factors of dining services sources and practices
Number of Positions Available: Fall/Spring: 1 & Summer: None

Hours: Fall/Spring: 10 hrs/week

Dates to Apply: Fall 2014 Hiring Completed
Contact Information: Errol Huffman,
 huffmane@dickinson.edu, 717.245.1318
Application:


 Request in person

---
The GIS Lab Intern will provide general assistance for all activities associated with the operation of the lab in fulfillment of its broad mission to promote the effective use of GIS technology within the Dickinson Community. Specific duties may include (but not be limited to):



Providing technical support to faculty and staff

Assisting students with questions about GIS assignments and projects

Collecting, editing, and managing spatial data for the GIS data server

Maintaining GPS and field data collection equipment in proper working order

Preparing and conducting workshops, learning seminars, and tutorials

Supporting campus and community outreach activities related to GIS

Designing, developing, and maintaining a GIS website for the college

Number of Positions Available: Fall/Spring: 2 & Summer: None

Hours: Fall/Spring: 8 hrs/week

Dates to Apply: N/A

Contact Information: Jim Ciarrocca, 
ciarroccaj@dickinson.edu, 717.245.1978
Application: Request in person
---