Energy Challenge 2016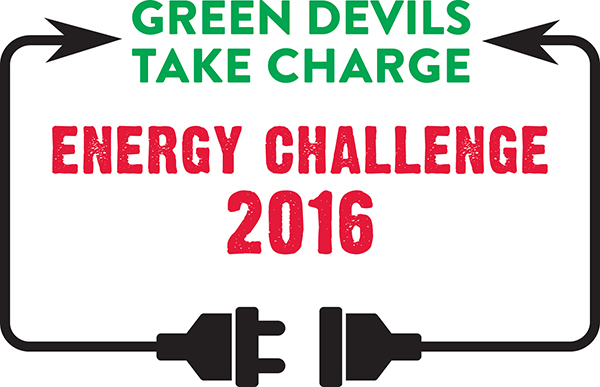 The 2016 Energy Challenge will run from March 28 to April 18, 2016. The theme is Green Devils Take Charge, with corresponding week themes to engage students, faculty, staff, and alumni in energy conservation. You can follow along with real-time energy monitoring in 23 Dickinson buildings on the Dickinson Energy Dashboard.
2016 Weekly Themes:
March 28 - April 4: Less is More
April 4 - 11: Flip the Switch
April 11 - 18: Unplug and Go Outside
Dickinson is striving to reduce our greenhouse gas emissions as part of our Climate Action Plan, by changing behavior to reduce electricity consumption. The Energy Challenges encourages and educates all Dickinsonians to do their part.
A residence hall competition will be hosted between the 15 residential buildings to see who can reduce their consumption by the greatest percentage from baseline data. Prizes will be awarded for greatest reduction.
Do your best to conserve, change your Facebook profile pic to show your commitment, support the weekly themes, and come to our events. Here are the current standings for the competition.
The Energy Challenge is contributing to Dickinson's carbon commitment to become carbon neutral by 2020. The 2015 Energy Challenge, Spark the Change yielded a total reduction of 69,670 kilowatt hours, which evaded 84,719 pounds of carbon from entering the atmosphere, saving the college $6,270 on electricity costs. Let's get these numbers higher this year and take charge!
Follow the Center for Sustainability Education on Facebook, Twitter, and Instagram for live updates on the challenge, and be sure to use #DsonCharge for a chance to win prizes.