Energy Challenge 2015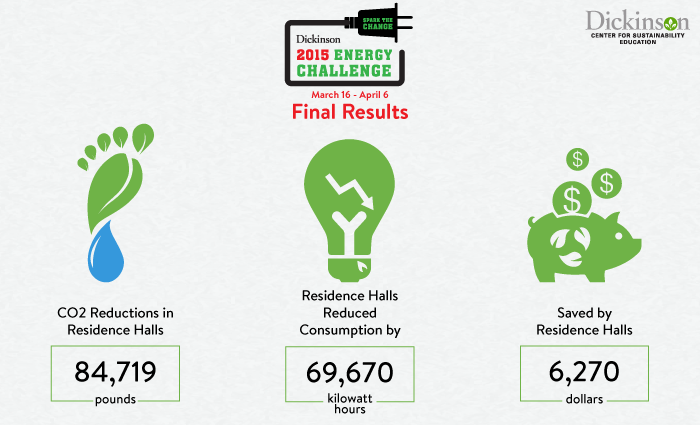 The 2015 Energy Challenge was hosted March 16 - April 6, 2015. The theme of the challenge was Spark the Change, and the goal was to reduce energy consumption across Dickinson's campus. At Dickinson, we are constantly striving to reduce our emissions by changing behavior to reduce electricity consumption. As part of the challenge, a residence hall competition was hosted between 15 buildings to see who could reduce their consumption by the greatest percentage from baseline data.
The Results

The results of the 2015 Campus Conservation Nationals (CCN) are in, and for a second year in a row, Dickinson is among the Top 10 energy-conserving colleges in the country. Now in its fifth year, CCN challenged 345,000 students from 125 colleges and universities to achieve the greatest possible reductions in their residence halls' energy use over a three-week period. Other institutions in the top 10 include California State University-Chico, Georgia State University, Oklahoma State University and San Diego State University.
The mission of the competition is to motivate students to work together to reduce consumption and mitigate the impacts of climate change. CCN also shows how college students, through simple acts such as unplugging unused electronics, using the stairs instead of the elevator and other minor changes in behavior, can make a big difference in the way buildings consume electricity.

Dickinson submitted the pooled results of its "Spark the Change" Energy Challenge held earlier this spring, a residence-hall competition among 15 buildings to see which one could reduce its energy consumption by the greatest percentage. It's an initiative that brings the Dickinson campus together in a friendly competition—one that reflects the college's leadership position in sustainability education and green operations, and also is a key component to Dickinson's ambitious target of driving down its net emissions to zero by the year 2020.

During the "Spark the Change" Energy Challenge, events such as Desserts in the Dark, and weekly themes such as Kill Phantom Power, Do It In The Dark and Power Down and Go Outside encouraged students to conserve energy.
CCN is hosted by the Center for Green Schools at the U.S. Green Building Council; Lucid, a California-based software company; the Alliance to Save Energy; and the National Wildlife Federation. Dickinson used our Lucid building dashboard to compare residence hall performance, share winning strategies and track competition standings.