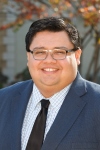 Hello from California! I am Dickinson's regional counselor based in the Golden State. My position allows me to work with students looking to have a transformative college experience on the other side of the country, along with being geographically a bit closer to you to answer questions.
As you and your family have probably discovered, the admissions process is not designed for a one-stop shop experience. Instead, I like to think of it as a conversation, one in which you can pick up at any time. Whether you are just starting the college search process or you have been admitted and need to connect with a student or faculty member, my goal is to ensure you have all of your questions answered and more.
Although much of the admissions process is conducted electronically through emails and online forms, this is still very much a personal process, which means I encourage you to reach out to me for a conversation on the phone or in person. Since I am based in Southern California, there are plenty of opportunities for us to meet in person.
I sincerely wish you the best in your college search. Dickinson's distinctive approach for a useful liberal-arts education, an engaged community that cares deeply about our environment and embraces our global world, just may be what you are looking for in a college.
Phillip Moreno
Director of West Coast Recruitment
morenop@dickinson.edu
213-262-8655