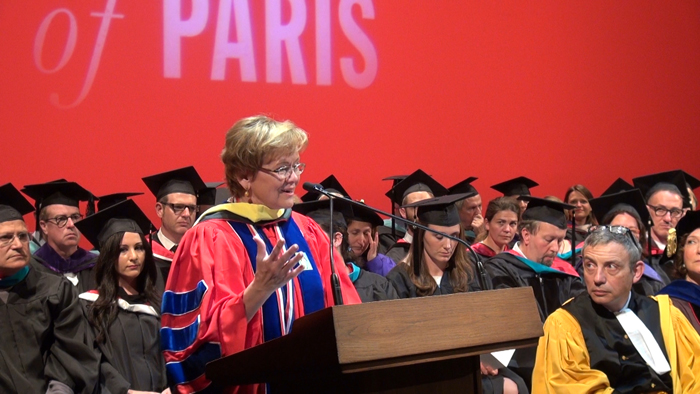 In 2015, Ensign received an honorary degree from the American University of Paris for her pioneering academic and humanitarian work.
Biography
Margee Ensign became Dickinson's 29th president on July 1, 2017. Prior to Dickinson she served for seven years as president of the American University of Nigeria (AUN), a young, private university based on the U.S. model of university education. There, she oversaw the building of the university's sustainable campus, the creation of the finest digital library on the continent and a very active program of community engagement and humanitarian assistance. AUN is located in Yola, the capital of Adamawa State, one of the three northeastern Nigerian states that have been under a state of emergency because of the Boko Haram insurgency. To deal with the crisis, Ensign co-founded and led the Adamawa Peace Initiative (API), a Yola-based response to the escalating violence, which successfully promoted peace in the area through education, empowerment and community development while feeding 300,000 refugees fleeing the fighting to the north.
Ensign has been internationally recognized for her pioneering work at AUN, including receiving the 2011 African Leadership Award in Educational Excellence, granted by London-based African Leadership Magazine. Rotary International made her a Paul Harris Fellow in 2012. In 2014, Ensign received the African Leadership Award from the World Centre for Corporate Social Responsibility. In 2015, the Women of Jama'atu Nasril Islam in Nigeria recognized her for her contributions to leadership, philanthropy and education of women and girls in northeast Nigeria. She also received honorary degrees from the American University of Paris and her alma mater New College for her peace-building and humanitarian work.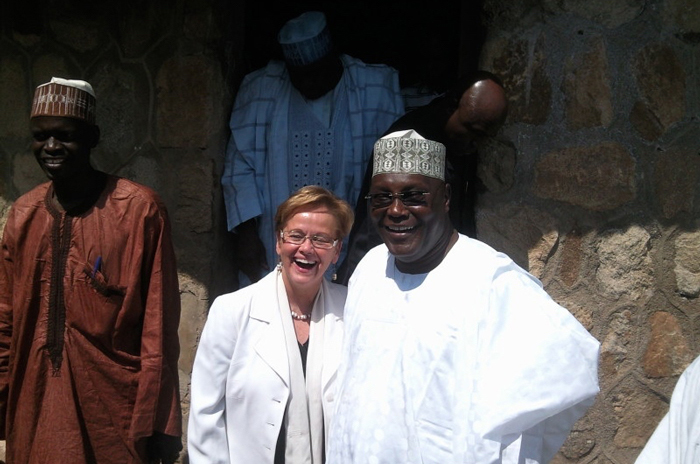 Ensign with His Excellency Atiku Abubakar, founder of AUN.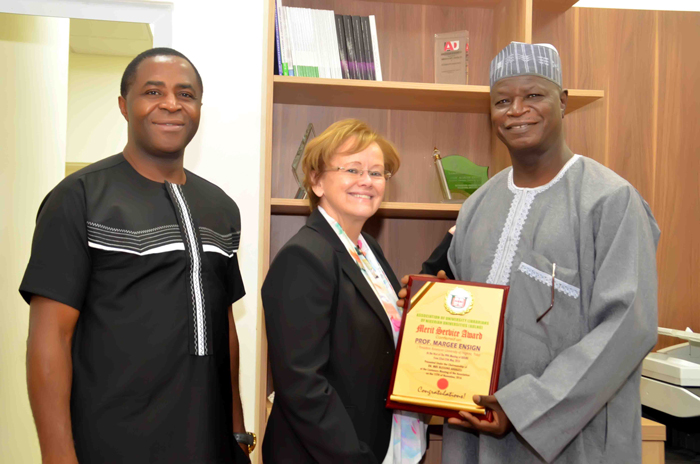 Ensign accepts an award recognizing AUN as having one of the best digitally based libraries on the continent.
She is a widely published scholar whose work focuses primarily on the challenges of international development as well as on the implications of development assistance. She co-authored Rwanda: History and Hope, co-edited Confronting Genocide in Rwanda and is the author of Doing Good or Doing Well? Japan's Foreign Aid Program and Images and Behavior of Private Bank Lending to Developing Countries.
Ensign earned her B.A. from New College in Florida and her Ph.D. in international political economy from the University of Maryland. She began her academic and administrative career at Columbia University in New York City. There, she was both assistant professor of politics and economics and director of the international political economy program.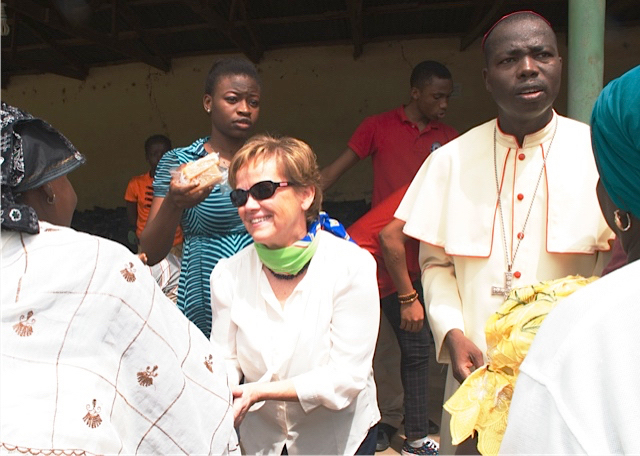 Ensign helps distribute food to internally displaced people.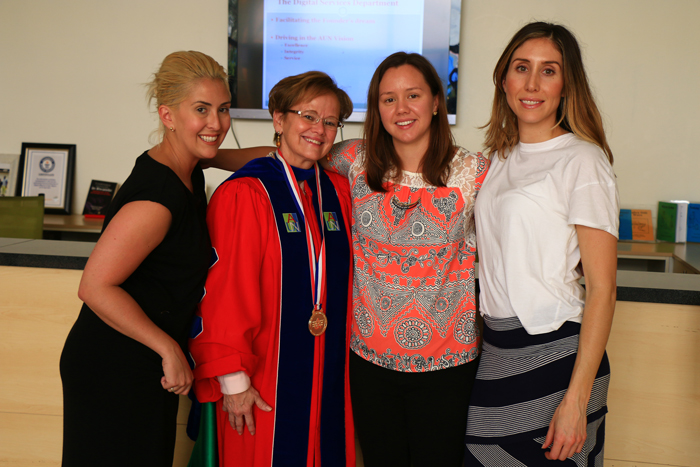 Ensign's niece, Kathleen Ensign; Margee Ensign; her daughter, Katherine Aronson-Ensign; and Ensign's niece, Veronica Ensign.
After Columbia, she became director of USAID's development studies program at Tulane University and a professor at Tulane's international development program, offering advanced programs at the master's and Ph.D. levels in international development in Washington, D.C., in Latin America and in Africa.
After Tulane, she moved to California to serve as dean of the School of International Studies and associate provost for international initiatives at the University of the Pacific. At Pacific, she set up undergraduate and graduate programs in social entrepreneurship, inter-American studies and intercultural relations.
Ensign has presented at the World Economic Forum; been interviewed multiple times by the BBC, CNN and NPR; has written for The Washington Post; is a blogger for The Huffington Post; and has briefed Congress on international affairs, defense and foreign assistance.
The Washington Post
"Colleges and universities must be more purposeful in demonstrating our value to our communities."
The Philadelphia Inquirer
"""While it is easy to point fingers at Trump, the problem for America runs far deeper. The U.S. has been the world's greatest superpower for many decades, but many of our citizens remain willfully ignorant of that world."" "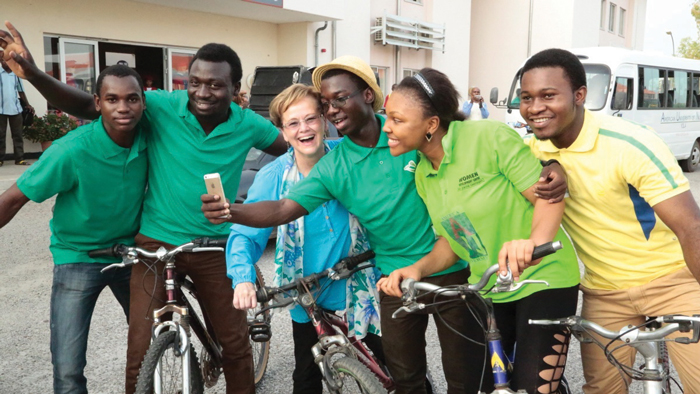 Ensign with students in AUN's environmental club.