Progress in Sustainability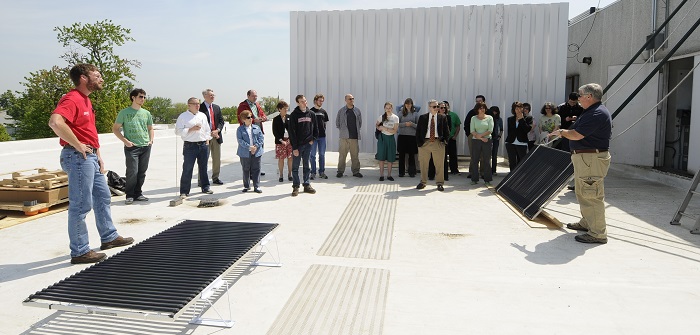 Our Performance Demonstrates Our Commitment
The governance and guidance of sustainability at Dickinson College is overseen by both the ongoing commitment of all departments, persons, programs, and organizations within the college to advancing sustainability as a core value and priority within the community.
The Dickinson Sustainability Initiative is more clearly defined through the following reports:

Reaccreditation and Sustainability, 2012 Report:
Our 2012 self-study report, prepared for Middle States as part of Dickinson's reaccreditation, focuses on our sustainability initiative. We chose to make sustainability a focus of our reaccreditation because of the central importance of the goal of the initiative, which is to make sustainability a defining characteristic of Dickinson's academic program, campus culture, and operations.

Climate Action Plan (2009):
President William G. Durden '71 signed the American College and University Presidents' Climate Commitment (ACUPCC) in 2007, pledging that Dickinson would be climate neutral by 2020. This commitment not only signifies the College's dedication to playing a role in the global fight against climate change, but also reflects Dickinson's dedication to its central mission: education. By joining the Presidents' Climate Commitment, Dickinson is setting an example of sustainability to its students, staff, and faculty, and helping to educate the next generation of global citizens. The Climate Change Action Plan details how Dickinson will achieve this ambitious goal.

AASHE STARS 1.2 Final Report (2012):
The Sustainability Tracking, Assessment & Rating System™ (STARS) is a transparent, self-reporting framework for colleges and universities to measure their sustainability performance. STARS® was developed by AASHE, an acknowledged thought leader that advances sustainability by providing invaluable resources, with broad participation from diverse representatives of the higher education community. This report is from April 30, 2012 in which Dickinson College received a Gold Rating with a score of 69.73.

Charting the Path for a Sustainable Dickinson Summary Report (2010):
On April 15-17, 2010 Dickinson College hosted a symposium to bring together a select group of students, faculty, parents, alumni and friends to help the College articulate a path for learning, research, operations, and community engagement that will contribute to a future for Dickinson College that is environmentally sustainable, socially just, and economically robust.

Greenhouse Gas Emissions Inventory Report (2014):
Dickinson measures and reports its greenhouse gas (GHG) emissions annually to the American College and University Presidents Climate Commitment (ACUPCC). This Greenhouse Gas Emissions Inventory Report, which Dickinson compiles annually, details those emissions.